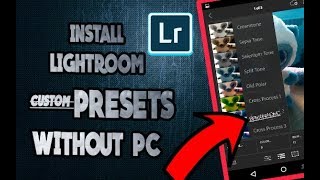 SO in this video , ie How to Install Presets in Lightroom Mobile For FREE or how to install lrtemplate files on your LR mobile & you will get to know to install LR Presets Manually without need of pc (creative clouds account) , or if your acc has been expired ! now you can install any presets like brandon woelfel , bryan adams etc on mobile itself .
INSTRUCTIONS :
first go ahead & create apk or lr app its self using apps like apk extractor
now download apk editor pro from link given below
now install and open apk editor and select "SELECT APK"
select the apk of LR
now go to FULL EDIT
then select FILES
go to assets->resource->presets->01 creative folder
now tap on + icon and manually add your .lr template files
once done , click on Build
note: uninstall the lr if previously installed
Once done building install
Thats it , enjoy Mooding !